Regular price
Sale price
$6.95 USD
Unit price
per
Sale
Sold out
Share
Energy Clearing Bundle - Sage, Palo Santo + Selenite Wand — choice of white sage -or- white sage & eucalyptus 
Clear out energy as part of your self-care and sacred space routine. Burning sage and palo santo is an excellent way to clear out unwanted energies. Selenite is used to clarify and clear energies. You can use these tools to clear your space as well as to clean your crystals. The uses are endless. 
Premium Palo Santo 
Also known as Holy Wood sticks, which are approximately 4" in length. Imported straight from Peru! Faiza Naturals goes through a sustainable source to acquire these ultra fragrant Palo Santo sticks that are always harvested from naturally fallen trees, never cut down by force. The village that farms and collects these trees are accredited by the Peruvian Government.
White Sage Bundle

Premium quality hand-harvested and hand-tied California white sage bundles/smudge sticks (4 inch). Organic and sustainable! Here at Faiza Naturals, located in beautiful Southern California, we take pride in our meticulously hand-tied white sage bundles. We use absolutely no pesticides or growth hormones and sun dry our lush bundles for a simply amazing all natural product.
Selenite Crystal Wand
4" Selenite Crystal Wands mined and hand polished from Morocco.
ETHICALLY SOURCED: Our Selenite comes from CONFLICT-FREE Moroccan mines that utilize methods that leave a nearly 0 carbon footprint in the process. Faiza Naturals has personally toured the village/family owned mines and determined that working conditions are excellent for the adult miners and polishing staff involved in producing these powerful crystal wands.
Selenite is essential for cleansing one's aura, as wands are a shape that directs energy flow. Especially if one is sensitive to other people's emotional energy, or the energy of a space, using selenite wands to cleanse your aura will remove that low vibration energy from you. Selenite has an exceptionally high and pure vibration, which promotes super-consciousness. It encourages us forward in life, continually promoting us to become the blissful and vibrant individual we are capable of becoming.
About the Brand:
Started in 2021 out of Upland, California, Faiza Naturals is an ethical, natural and spiritual goods company that responsibly and sustainably acquires their products. They have direct ownership to their all organic farm in Southern California so they provide the highest quality with the best pricing on items such as hand-tied sage smudge sticks, shell bowls, essential oils and so much more. Their focus is to produce lush and vibrant goods while maintaining sustainable farming practices such as sun drying and rotational field harvesting in order to appease nature. All our merchandise are produced in small artisan batches and meticulously packaged.
Brand Values:
Eco-Friendly
Not on Amazon
Handmade
Organic
Women Owned
Indigenous Owned
View full details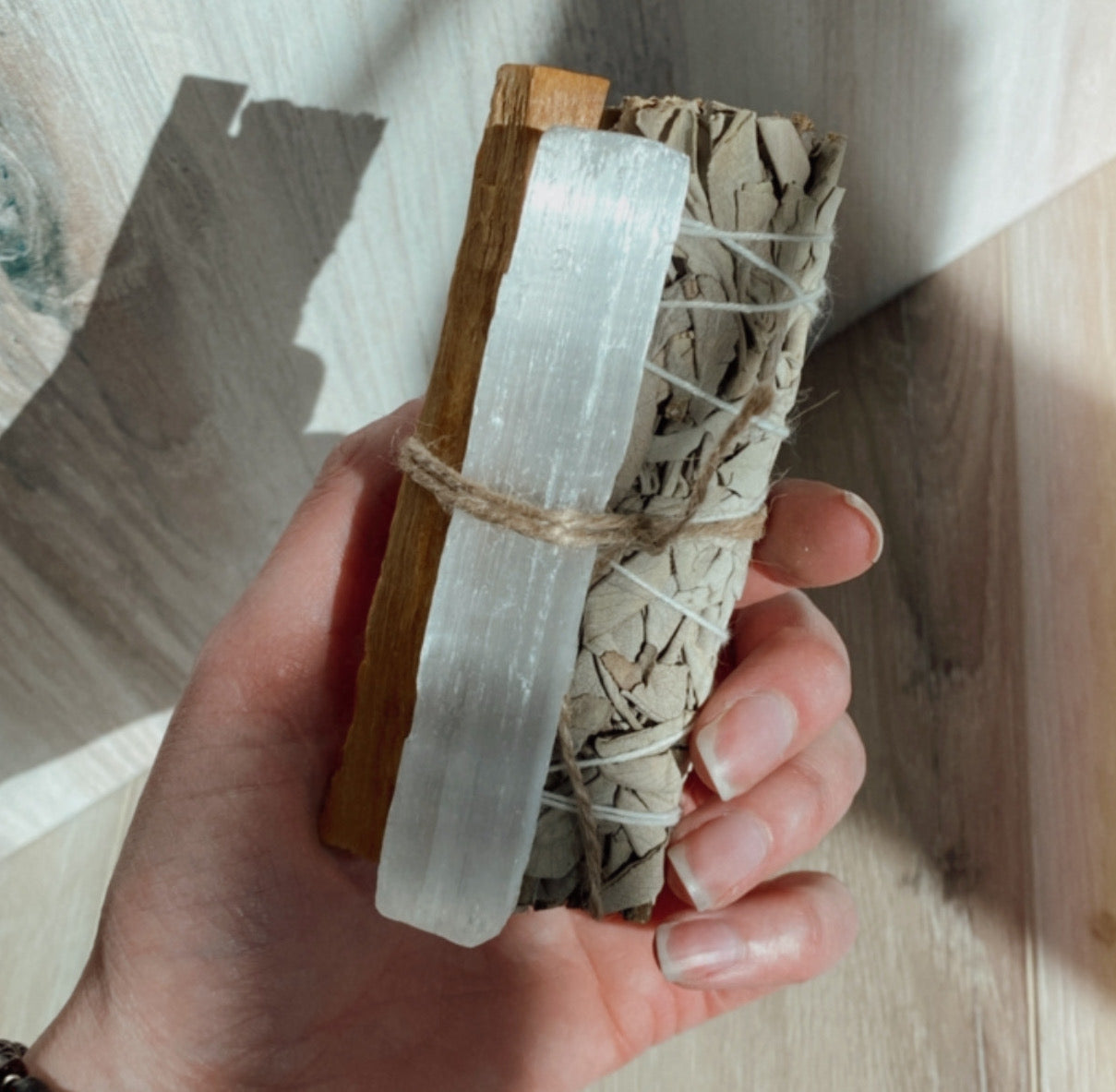 Love it!
This is a perfect little bundle for cleansing your space and yourself.
Love!
This is a great bundle. Customer service was amazing. They were able to accomadate a large order and shipped quickly! Packaged with care. I would highly recommend!