Regular price
Sale price
$13.95 USD
Unit price
per
Sale
Sold out
Share
Aching Head Run – 1oz Jar -or- .5oz Tin
GET A-HEAD OF THE PAIN! – Lavender, Peppermint & Marjoram
Aching Head Rub™ is a strong aromatic salve that helps soothe occasional headaches. The menthol helps provide a cooling relief, and the essential oils of lavender, peppermint, and marjoram help soothe the senses. Rub your headache away, naturally!


Benefits:
Soothing aromatherapeutic experience.
Eliminates tension from head, neck, and shoulders.
Provides cooling relief to soothe pain.
Naturally relieves headaches and tension.
How To Use:
Massage in a circular motion onto temples, neck, and shoulders until thoroughly absorbed into skin.
Breathe deeply and experience the benefits.
Repeat as necessary, no more than 3 to 4 times daily.

Allow a minimum of 2-3 hours between applications.
Ingredients:
Organic Sesame Oil (Sesamum Indicum), Organic Olive Oil (Olea Europaea), Organic Ginger Powder (Zingiber Officinale), Beeswax (Cera Alba), Castor Oil (Ricinus Communis), Wintergreen Oil (Gaultheria Procumbens), Marjoram Oil (Thymus Mastichina), Camphor Oil (Cinnamomum Camphora), Menthol Crystals, Cinnamon Oil (Cinnamomum Zeylanicum), Lavender Oil (Lavandula Angustifolia), Eucalyptus Globulus Oil, Clary Sage Oil (Salvia Sclarea), Rosemary Oil (Rosmarinus Officinalis), Basil Oil (Ocimum Basilicum), Peppermint Oil (Menthe Piperita)
About the brand:
Little Moon Essentials is a bath and body care brand started in 1994 and based in Steamboat Springs, Colorado. They are devoted to making high-quality, natural remedies for the body, mind, and soul. All of their products are 100% natural, cruelty free, planet friendly, and handmade with love by our team in the USA. Our mission is to provide natural remedies that improve your physical and emotional well-being, so you can feel your best every day!
Brand Values:
100% Natural
Certified Cruelty-Free & Vegan Friendly
Certified Plastic Neutral
Family Owned
Handmade
View full details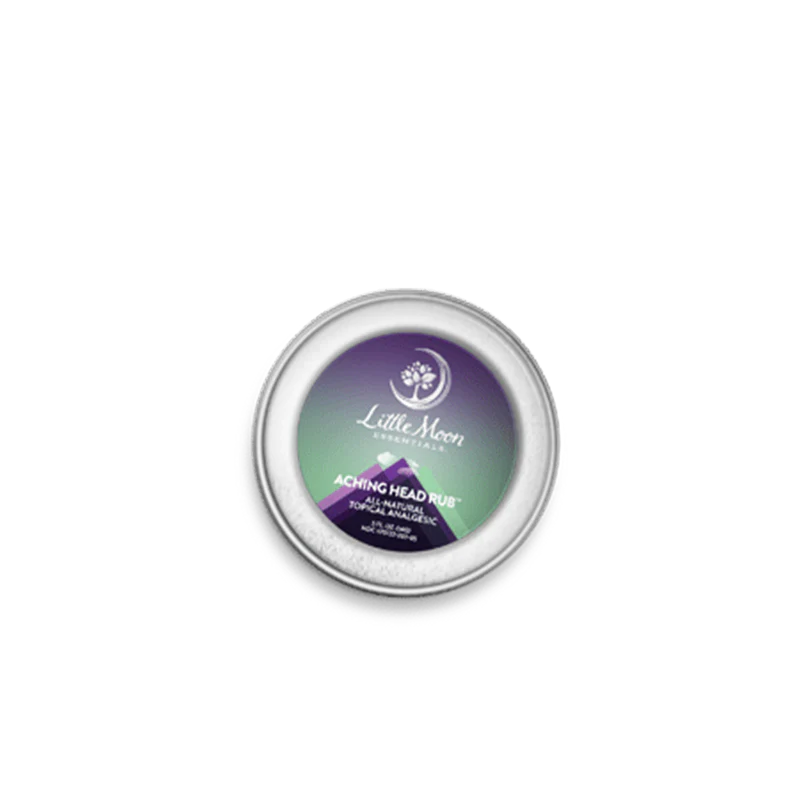 Second jar
This is my second jar of this and it works! I don't like to take a lot of meds and this really helps do the trick with my annoying tension headaches and it smells wonderful. Will definitely continue to keep this in my bag!
Little jar of goodness!!
I ordered this product to keep on hand as I sometimes experience headaches/migraines. It arrived with perfect timing, as I had a headache that day… I rubbed a little bit of this on my temples, and the back of my neck. I didn't realize until a few hours later that my headache had gone away! I was like wow maybe this really did help?! 🤔👏🏼
Then, the very next day we were on a little weekend vacation, and my seven-year-old was complaining of throbbing, aching feelings in her arms… Being in a hotel, and I didn't have much with me, I remembered I had this little jar goodness. I thought what the heck… I rubbed it all over both of her arms and within an hour she was not making a peep. I didn't say anything I just kind of smiled was like wow this stuff really does Work!! 🙌🏼
I will always keep this stuff on hand! I highly recommend it!
It smells nice too, it's not too strong, just enough 😊